The technology craze of the 1890s meant fashion freedom and transportation independence.
The bicycle, when it was still new technology, went through a series of rapid iterations in the 19th century before it really went mainstream. Designers toyed with different-sized front and back wheels, the addition of chains and cranks and pedals, and tested a slew of braking mechanisms.

By the 1890s, America was totally obsessed with the bicycle—which by then looked pretty much like the ones we ride today. There were millions of bikes on the roads and a new culture built around the technology. People started "wheelmen" clubs and competed in races. They toured the country and compared tricks and stunts.

The craze was meaningful, especially, for women. Both Susan B. Anthony and Elizabeth Cady Stanton are credited with declaring that "woman is riding to suffrage on the bicycle," a line that was printed and reprinted in newspapers at the turn of the century. The bicycle took "old-fashioned, slow-going notions of the gentler sex," as The Courier (Nebraska) reported in 1895, and replaced them with "some new woman, mounted on her steed of steel." And it gave women a new level of transportation independence that perplexed newspaper columnists across the country. From The San Francisco Call in 1895:
It really doesn't matter much where this one individual young lady is going on her wheel. It may be that she's going to the park on pleasure bent, or to the store for a dozen hairpins, or to call on a sick friend at the other side of town, or to get a doily pattern of somebody, or a recipe for removing tan and freckles. Let that be as it may. What the interested public wishes to know is, Where are all the women on wheels going? Is there a grand rendezvous somewhere toward which they are all headed and where they will some time hold a meet that will cause this wobbly old world to wake up and readjust itself?
Others, like this Sunday Herald writer in 1891, were decidedly less open minded:

The bicycle, as a new technology of its time, had become an enormous cultural and political force, and an emblem of women's rights. "The woman on the wheel is altogether a novelty, and is essentially a product of the last decade of the century," wrote The Columbian (Pennsylvania) newspaper in 1895, "she is riding to greater freedom, to a nearer equality with man, to the habit of taking care of herself, and to new views on the subject of clothes philosophy."
Yes, bicycle-riding required a shift away from the restrictive, modest fashion of the Victorian age, and ushered in a new era of exposed ankles—or at least visible bloomers—that represented such a departure from the laced up, ruffled down fashion that preceded it that bicycling women became a fascination to the (mostly male) newspaper reporters of the time.

Which brings us to a rather remarkable example, from a May 1897 edition of The New York Sun, of early American mansplaining. This particular example features an entire spread—complete with illustrations—of various women's toe-to-knee style in the bicycle age, and writer W.J. Lampton's thoughts on what regional fashion revealed about the city in which a woman was biking. Lampton presents his findings lecture-style (and, curiously, refers to the illustrations as if the reader can see them on a screen), suggesting "Mine Eyes Have Seen the Glories of the Whirling of the Wheel" as musical accompaniment.

Lampton calls his essay: The Evidence of the Bicycle from the Shores of the Atlantic to Those of the Pacific—a Trail of Wondrous and Varied Beauty. The pictures are charming and the copy is outright bizarre, full of flourish and objectification. Here's what he has to say about the bicycling women of Boston:

"As you are all so well aware, Boston is famed for her intellectuals…There is a delicate grace and refinement limned upon the canvas, so to speak, that is as transcendental in its esoteric concept of the metempsychosis of a plate of beans as there is in the sacred codfish that flutters its ichthyological tail over the golden dome of the State House."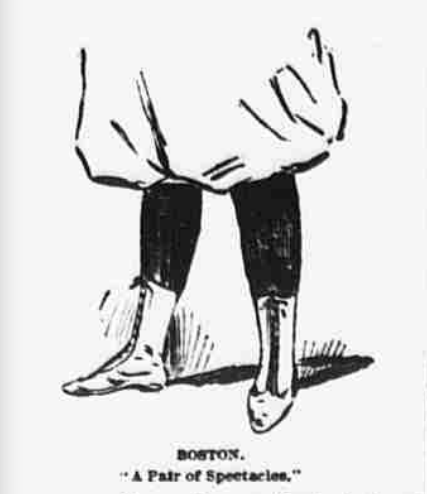 The writer comments on the "Teutonic quality" of the female bicyclists in Cincinnati, saying that "hills and the bicycle will always produce the effect that we now see before us."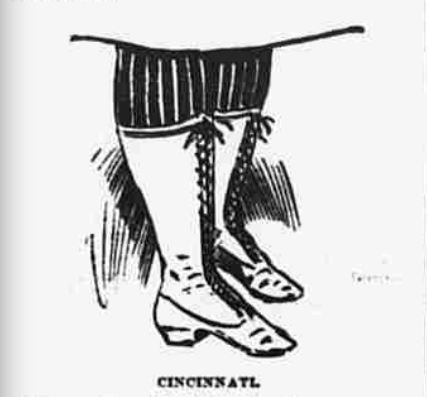 Philadelphia, was apparently notable for the tight leggings women opted to wear: "As will be seen, this view is a happy medium between Boston and Cincinnati, and shows neither too much intellect nor too much physical vigor. It also indicates by the leggings, which are unmistakable in their outlines, that shrinking diffidence which has justily made Philadelphia admired and loved by the classes as well as the masses."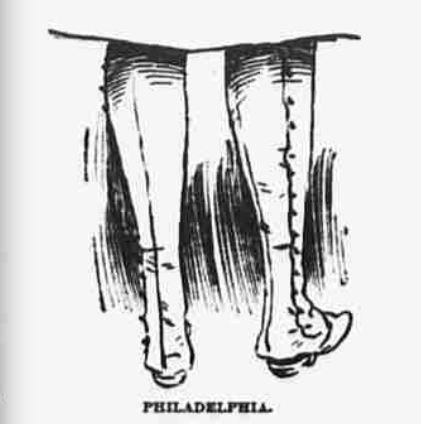 And Washington, D.C., was "like a poet's dream" and "the Paradise of Bicyclers, whose asphalt pavements are to the bicycler what the golden streets of New Jerusalem are to the angels."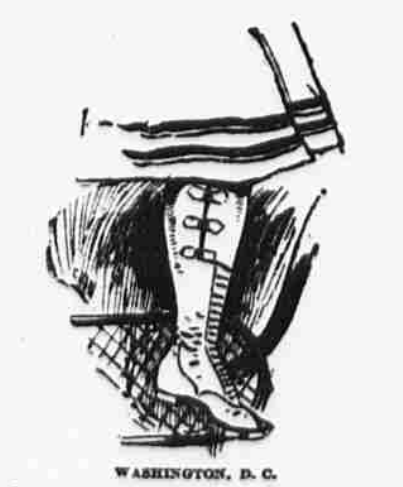 In Albany, Lamtpon imagined women on bicycles saying nothing but "'hills, hills, hills,' and adds a cuss word now and then, not only for the labor involved, but for the unbeautiful results of the wheel in daily use."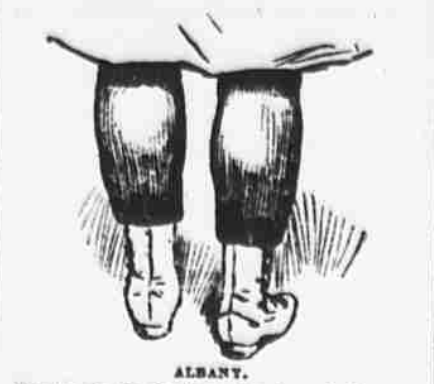 He didn't have much to say about Chicago, other than how flat it is and how "delightfully" the female bicyclists "add to the views about Chicago."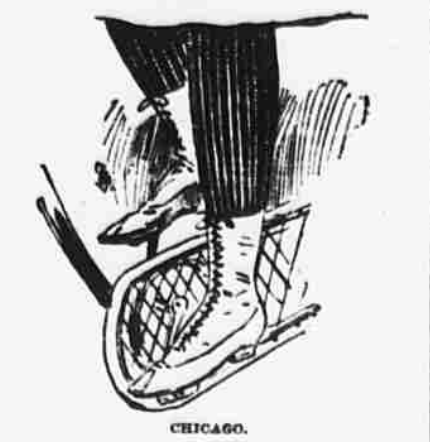 New York City, naturally, was noted for its "inimitable stylishness…which cannot be found in any other limbscape on the continent."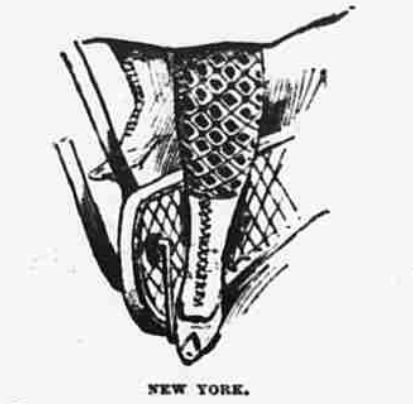 In Denver—"what a change has the bicycle wrought!"—women's ankles surpassesd its "distant snow-white mountains as the finest sight on earth"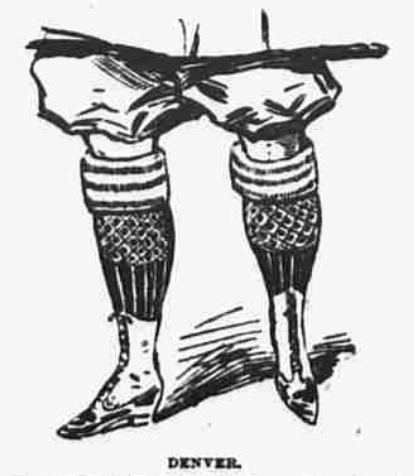 Nashville's "delightfully harmonious scenery" only got a passing mention.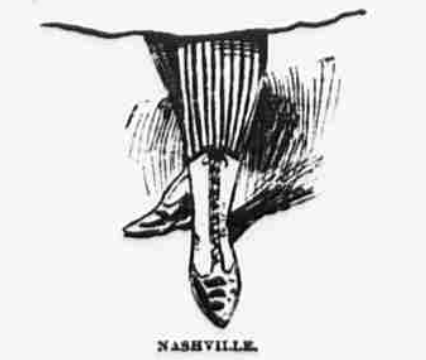 While Atlanta was creepily praised for "her glorious and goddesslike daughters" who "speak for themselves, silently, but oh so expressively."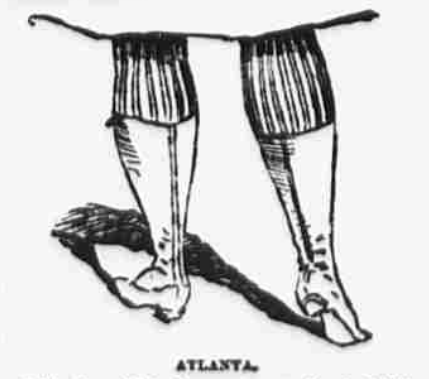 The writer noted Detroit's women for their "charm of contour" and "rustic diffidence of manner that is refreshingly pictured in the primness and preciseness of the pose now on view."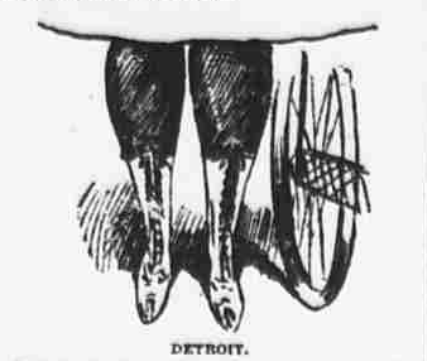 And though Pittsburgh was usually "obscured by the smoke that hangs always over the town," the writer found it "truly substantial" in what the city "shows to the eye since the bicycle has come among us."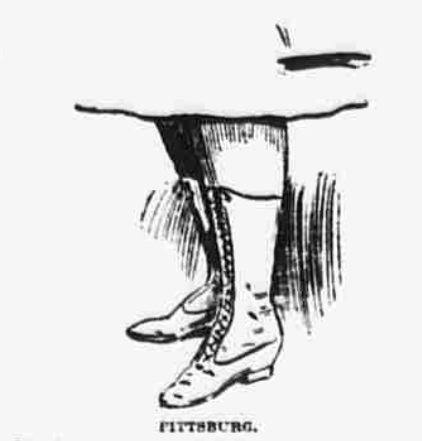 He went a little nuts over Louisville: "What poetry and symmetry we have before us as the result of easy grades and asphalt pavements, whereupon the beauty that a goddess might well weep to gain is seen on every hand—I beg your pardon—I should perhaps have said on every foot, though I do not wish to make a joke of sacred things. Perhaps nowhere in the world shall we find just such a view as this one is."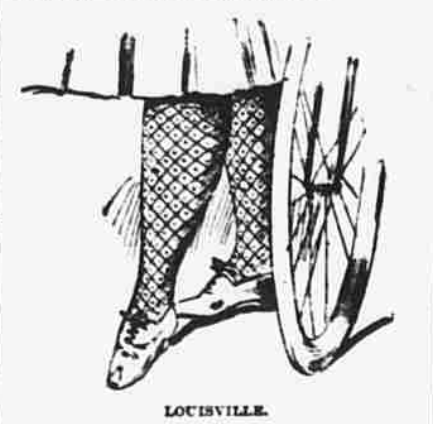 But he seemed kind of wishy-washy about New Orleans, where he said women's legs appeared "steadier" than in hillier cities, but "more harmonious," too.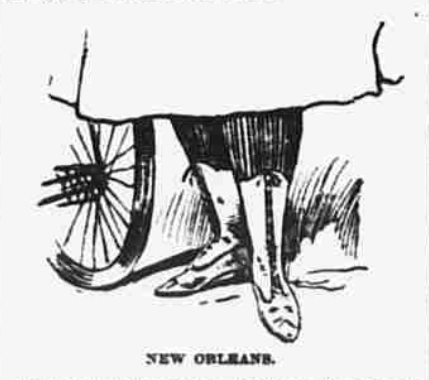 On St. Louis: "Still, it isn't as bad as it is in Chicago."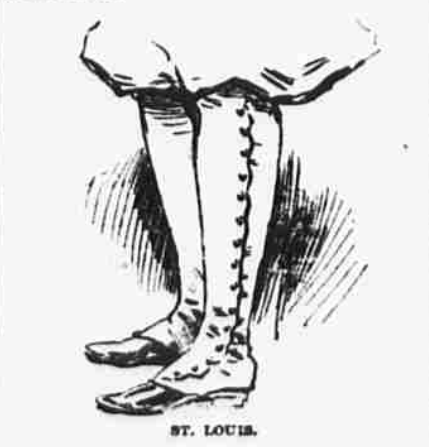 San Francisco: "Need I call your attention, ladies, to the hill effect in this picture? … This California product, like the big trees, the big fruit, the big pumpkins, and the big lies of that noble State, is cosmopolitan, and may well be called a composite view."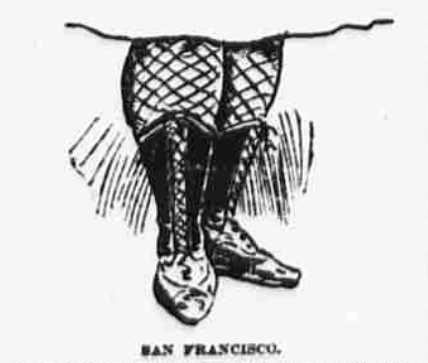 He was a bit nicer to Baltimore. "In the words of a well-known poet, ladies, let me say: 'Graceful and airy is the Baltimore fairy,' and Baltimore may well be proud of her beauty record. Only a casual glance is necessary at the screen to show to even the most indifferent what there is in Baltimore to make it an ever charming resort for those who love the spinning wheel. Well may she be called the Monumental City."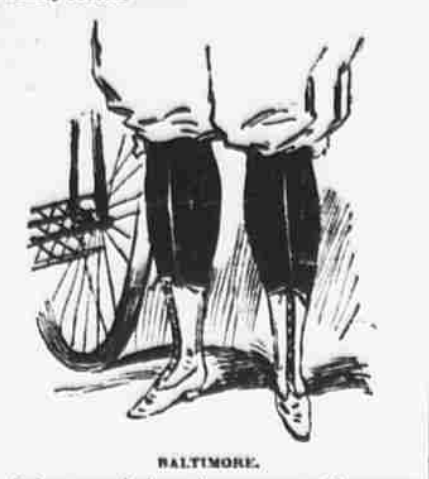 And then there was Brooklyn, apparently trying just as hard then as it does now, confusing Lampton enough that he claimed to have sent the sketch artist back several times to double check the fashion.
Lampton ultimately liked Brooklyn's style: "I have given you here in this modest little picture a refreshing and rural type, which I know will come to you as a breath of fragrance from the apple blossoms and the new-mown hay. How lovely is Brooklyn, and how refining and enobling are all her influences."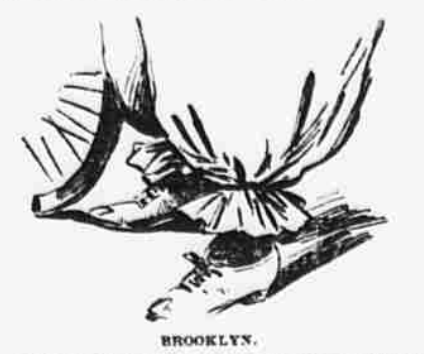 Old newspaper pages are littered with this kind of thing. But there's a special layer to this one. Reading Lampton's bad jokes and hyperbole, I couldn't help but imagine what it must have felt like—in an age when American women were still decades from the right to vote and inundated with men's opinions about their ankles—for a woman to to go outside, hop on her bicycle, and ride as fast as she could wherever she wanted, leaving the rest of the world wondering where she might go.